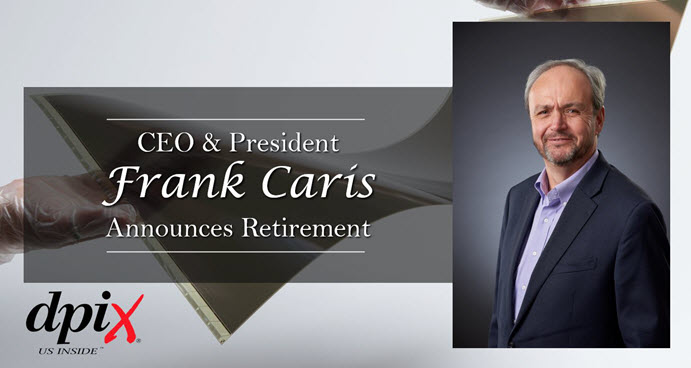 dpiX Announces Frank Caris' Retirement as CEO
Colorado Springs, CO, March 31, 2022 – dpiX announces Frank Caris' retirement as Chief Executive Officer after a very successful 15-year tenure.
Frank served, respectively, as interim-CEO and CEO & President of dpiX LLC.
"It is time for me to retire and say farewell to dpiX, by now the largest A-Si semiconductor manufacturing facility in the western world and the worldwide market leader in optical XR sensors for healthcare, defense, and industrial applications. My decision last year to retire by April 2022 didn't come easy but allowed us time to bring a new home-grown and excellent dpiX management team up-to-speed.  This team will now be augmented by a great new GM." said Frank.
During Frank's tenure, dpiX established a 150,000 sqft semiconductor manufacturing plant in Colorado Springs, CO while in parallel operating a very productive semiconductor plant in Palo Alto, CA. In recent years the company added additional production lines for both A-Si semiconductors on flexible foil as well as other new semiconductor technologies and moved the headquarters to Colorado Springs.
"This was great teamwork! I would like to thank all involved in this venture; dpiX employees, board members, the chairman, major shareholders (Philips, Siemens, Thales, and Varex), customers, suppliers, the City of Colorado Springs, the State of Colorado, and, last but not least, the Department of Defense that played a pivotal role in putting dpiX on the map," added Frank.
All at dpiX would like to thank Frank for the great work he has done in establishing dpiX and wish him all the best as the Honorary Consul representing the Netherlands in Colorado, New Mexico, and Wyoming.
Contact
dpiX
Celeste Lucero
719-332-0570